GLIDER BACKPACK - Ace Custom
Hi Everyone
We have another Backpack Glider bag to add to the growing number of items we produce for the RC enthusiast. We have a couple more Backpack Glider bags. Which come in two different sizes 40" for small and medium-size gliders and 55" for your larger gliders. There is detailed information on the build of the Glider Backpack on the site. The link is attached for your convenience. We do have a few different colors you can get these in. So two different sizes for your larger-scale Gliders. It's a great Backpack for all-around trekking to your favorite flying spots. Very versatile and carries everything you need.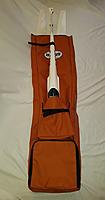 RC Glider Backpacks
Ace Custom
American Made Products
I also wanted to thank all those supporting American Businesses that Produce American-Made Products it means a lot to us.
Some think it is ok to support Communist China and the Socialist communist Eastern blocks. You can thank them for the Pandemic we are in, the lives we have lost and other countries going through the same thing as us. I served a really great country, The USA. It means different things to different people. It's the heart and soul of everything I do. There is a wonderful list of American Businesses on RC Groups and other platforms, take a look at it next time you want to buy something. Make the USA your number one pick, and then it's up to you after that. Thank you again. Americans Are Great People