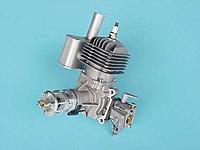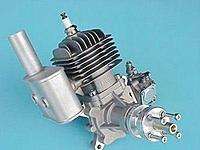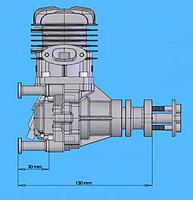 The DLE-30 arrived well packaged in a compact box. Included with the engine was an electronic ignition, a side-mount exhaust, and a nice set of aluminum stand-offs. I was especially impressed by the fit and finish of the engine. Everything appeared very clean and well assembled.
Auto Advancing Electronic Ignition Performance: 3.7hp @ 8500rpm Idle: 1600rpm Thrust: 8.5kg @ 100mtr / 7.5kg @ 1800mtr (Above sea level) Suggested prop: 18x8, 18x10, 19x8, 20x8 Spark Plug: NGK CM6 Bore/Stroke: 36 x 30mm Compression: 7.6:1 Weight: Engine - 910g Exhaust - 60g Ignition - 120g
I mounted the DLE-30 in a TBM Pilatus PC-21. The PC-21 is a sleek looking 1.20-sized airframe that was expected to come in around 15lbs. The DLE-30 seemed to be a perfect choice. The included stand-offs made mounting the engine very simple, even with the need to fabricate an extension to get the compact DLE-30 into the appropriate position on the narrow nose of the PC-21. At the field, I was surprised to see how quickly the DLE-30 had drawn fuel from the tank. The engine had been sitting in its box for at least a month before I attempted to start it. With the throttle at idle and the choke closed, the engine gave a typical "pop" after less than a dozen flips. Choke off and crack the throttle a couple of clicks; the DLE-30 jumped to life after just 3 more flips. It quickly settled into a nice idle right around 1800 rpm. After a little tuning, the 18x8 prop was turning just over 8000rpm before it was even broken in. Needless to say, I was impressed.
---
The DLE-30 is a great option for 1.20-1.50 sized glow engines. While it does take some time to break-in and may need some tuning during the break-in process, the benefits of a gas engine in this size outweigh the drawbacks. It's easy to install, easy to start once the break-in process is complete and provides great performance for it's size. SouthEast RC Engines has been great to deal with and will provide any service the DLE-30 may need.